RISE UP AUSTRALIA LTD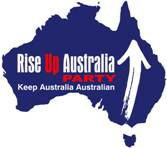 This is more information on the Rise Up Australia Ltd which is an open Party for all like minded people to join (Now Rise Up Australia LTD).




This is now an historic record as the Party closed but in its place there is lobbying movement Rise Up Australia Ltd


Yes Australia is a land of many rich cultures but there are those that wish to push their Shariah Law onto all other cultures by first getting their communities to be able to have it as they have done so in Europe and in the USA and now Canada. Things do not stop there because they want it on the whole world. So Rise Up Australia Party is against all those who want to dominate with other such philosophies that lead to dictatorship. We see that blasphemy laws have come into law in certain countries which means that people could end up in serious trouble in the courts where one cannot say anything about the gods of other religions and found guilty of blasphemy by upholding that Jesus is God and is the Son of God, yet His name is blasphemed all the time by most people. The same could happen for other religions.
These are brief pages and not a detailed list of what the Rise Up Australia Party stands for but an introduction to the fact that it is now an open Party in Australia that has come to stay. The contact details for the Rise Up Australia LTD are shown in the leaflet above. The Party is looking for members the form can be found here.